A Year of Fundraising
For the last year, I have devoted at least 20% of my book revenue to various charities — though astute observers will notice that I did not announce a new charity in August. Sadly, I entered the month of August sick with Covid which put the weeks into a tailspin. But I survived thanks to Paxlovid and daily deliveries from concerned neighbors and coworkers.
So here we are — September! My birthday month! Despite all prognistications, I've lived to (not quite) 68. On 09/05/2023 at 9:05 p.m., I will enter the final third of my sixties. The long, slow slide to 70!
Since it is September, I again commit at least 20% of my book revenue to the charity that has been most dear to my heart: Rose Brooks Center of Kansas City.
I've had a lot of people ask about my historical connection with Rose Brooks Center. Here it is, in a nutshell:
From 1977 – 1980, I served as an assistant to the lobbyist for Legal Services of Eastern Missouri. My primary focus was the Adult Abuse Remedies Act, the legislation which afforded an order of protection for victims of household violence. That Act passed in 1980. In the three legislative seasons that I wandered the halls of the state capitol in Jefferson City, Missouri, I met some amazing folks working in the field of domestic violence. These included Marcia Walsh and Sherri Rosen of Legal Aid of Western Missouri, each of whom later would become judges. I also came to know the folks who started Rose Brooks Center. As a survivor of a chaotic household, I desperately wished that programs such as Rose Brooks Center had been available to my family. I wanted to help insure that others had the assistance they needed to break the cycle of family violence.
When I moved to Kansas City to attend law school, I began to do volunteer Speaker's Bureau work for Rose Brooks. Later, I would give instructional talks to its clients and still later, I provided volunteer legal representation for its clients. I've watched the agency grow over forty years, and I have seen the wonderful and compassionate work that they do. When my then-husband, friend Penny Thieme, and I started Art @ Suite 100, we resolved to do an annual fundraiser for Rose Brooks Center, most years also including Safe Home on the Kansas side of State Line.
In the five years that I've lived in California, I've gone back to the KC area three times to do a fundraiser in September to benefit Rose Brooks Center, including my book release in 2022. This year, I decided to stay in California and use my time and efforts to persuade people to directly donate to them or to a program in your own area assisting survivors of family violence. Since I just saw my family and friends in May when I did a writer's workshop in the KC area, I decided to stay here and have a virtual fundraiser on Facebook.
So here's the deal. In honor of my 68th birthday, you have two ways to give and two ways to receive.
Direct Donation = FREE BOOK! If you directly donate at least $25.00 to Rose Brooks Center between September 01st and September 30th, either on their site, by mail, or through my Facebook fundraiser, I will send you my book without charge. Just email a copy of the receipt for your donation to me at ccorleyjd@gmail.com. You can black out any personal info. If you make a donation through my Facebook fundraiser, I get notice of that. Either way, make a donation of at least $25.00 to Rose Brooks Center during September, and you get a copy of my book completely free!!!! I will cover the mailing cost. I will inscribe your book. I will take it to the post office myself!

Buy My Book = I donate 20%! If you buy a copy of my book through this website (not Amazon) during September, I will donate at least 20% of the purchase price to Rose Brooks Center. My book is $20.00 and mailing cost is $5.00.
Really, making the donation yourself is much better for you! You get my book inscribed and mailed to you; I cover the cost; you get the charitable deduction; and Rose Brooks Center gets your dollars! All you have to do is donate at least $25.00 and send me a copy of your receipt via email along with your full name, to whom you want the book inscribed, and the address to which you want your book mailed!
Either way — I will inscribe your copy of my book and mail it to you on the Friday after you purchase it through me or email documentation of your donation to me at ccorleyjd@gmail.com.
And as always:
If you or anyone you know needs help breaking out of family violence, please call:
National Domestic Violence hotline at 800-799-7233
Rose Brooks Center at 816-754-6876
Safe Home at 913-262-2868.
If you or someone you love is experiencing thoughts of self-harm, please call:
Suicide and Crisis Hotline: Dial 988
There is always a way. You are not alone.
**********************************************************************************************
Thank you for your purchase; and thank you for any donation you are able to directly make.
Order in our shop HERE for an inscribed copy directly mailed from my home in California. Purchase a print-on-demand copy (not inscribed) on Amazon HERE. Paperback edition now available.
Sales of the book for pick-up local to the California Delta or shipping by USPS ongoing.
Prints of the companion photographs are available by direct purchase from the photographer, Genevieve Casey, at her Zenfolio site.
The choice of a Mugwump is an important decision and should not be based upon advertising alone.
Be well.
Mugwumpishly tendered,
Corinne Corley
The Missouri Mugwump™
"Mugwumpishly Tendered: Essays from the seasons of one woman's life" is brought to you by The Missouri Mugwump™ and published by Write the Future, an imprint of Spartan Press, KC MO.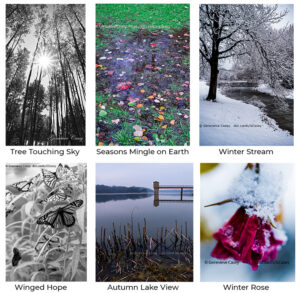 To purchase prints of the photographs in the book, visit photographer Genevieve Casey's Zenfolio site.